Review of 10 most popular crypto applications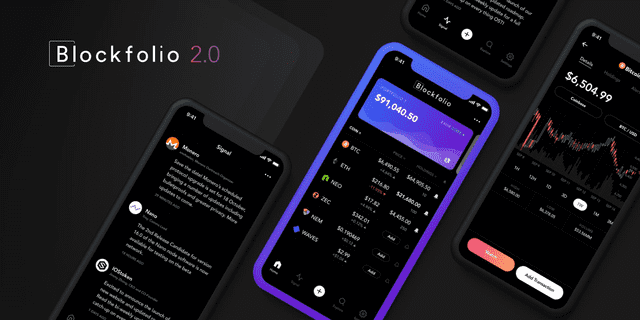 Cryptocurrency apps are software for smartphones that provide up-to-date data on digital coins allowing us to solve various problems. With their help, you can invest, get information about exchange rates, earn on sales, get information about stores accepting BTC, etc. Below we consider TOP-10 apps that have useful functionality and positive user reviews. You can store your mined Bitcoin on the Hashmart.io cloud mining website using these wallets.
Blockfolio
Blockfolio is an app for monitoring exchange rates supporting more than 8000 types of cryptocurrencies. The application shows prices in digital and graphic form, which simplifies the analysis and makes it more efficient.
Available options:
Online price monitoring for over 8,000 digital coins;
Cryptocurrency rate behavior;
Current exchange rate and market analysis;
Notification of the user about reaching a certain price level.
Blockfolio developers paid attention to the security of the app. It provides a PIN code to protect your account, there is the ability to transfer or restore information and the function of hiding the balance-sheet. The support service operates around the clock with the possibility of communication by Telegram or by e-mail.
A high user rating (4.8) confirms the quality of the app. People note the convenience of buying/selling, the absence of unnecessary functions and the convenient display of data. The number of downloads and device installations exceeds more than 1,000,000, which is an additional confirmation of the effectiveness of Blockfolio.
Crypto App
The Crypto App is designed for people who are interested in the world of cryptocurrencies. With its help, you can follow the exchange rates, receive price notifications and other relevant information, and read the news. Crypto App is useful for investors and people who are just planning to start making money on cryptocurrencies.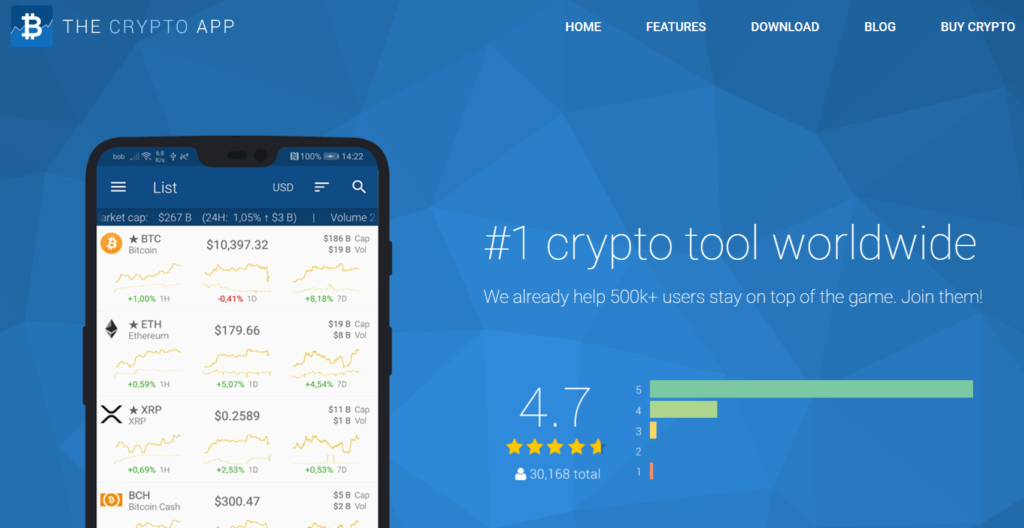 Available options:
Monitoring of the exchange rate of Bitcoin and other digital coins;
Notifications of price changes;
Relevant news in the cryptocurrency world;
Built-in converter;
Analysis of market capitalization;
Ability to add widgets;
Support for US dollars, Euros and other currencies.
Crypto App combines many functions, which allows you to forget about other software. The main feature is the lack of user fees.
The Crypto App user rating is 4.6. People note an interesting interface, a large amount of useful information and convenience. Some dissatisfied users note the incorrect display of exchange rates and problems with loading charts.
Bitcoin map
The Bitcoin Map application provides accurate information about the location of stores accepting Bitcoin. With its help, it is possible to find a store where you can spend the cryptocurrency on certain things. Each store has an address, phone number or website. To clarify the information, you can dial the number of the store and get additional information.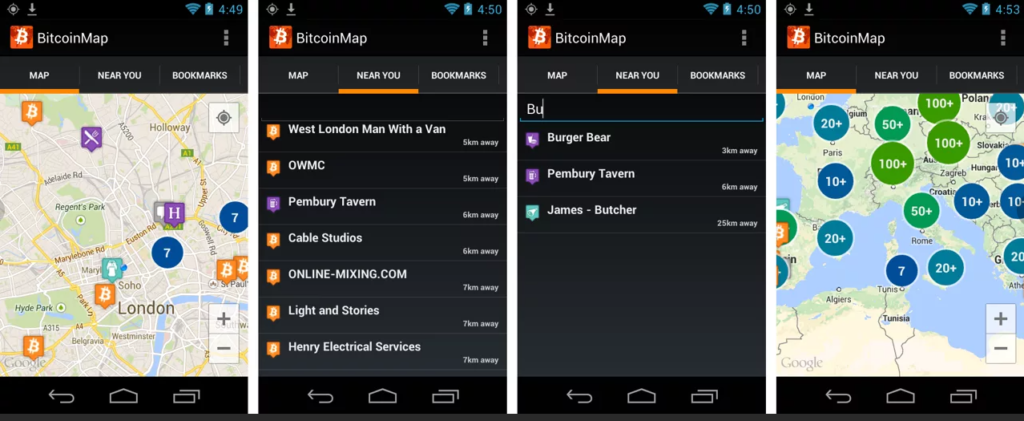 Available options:
Filtering stores by name;
Updates to the list of stores in your location;
Interactive map;
Multilingual support;
Lack of advertisements;
Bitcoin exchange rate to different currencies and quick calculation of value using a calculator.
Bitcoin Map uses data from openstreetmap.com to determine store addresses and Google Maps when displaying a location. During installation, the app asks for access to phone calls and photos.
The average score of users is low (3.8), but it is due to failures in previous updates. After creating a new version, many errors have been fixed. One of the shortcomings is a small number of stores in the CIS countries.
iKranus Bitcoin
The Kranus Bitcoin app is designed for cryptocurrency enthusiasts interested in cryptocurrency data. Developers offer a wide range of functions, starting with receiving news about digital coins and ending with their earnings.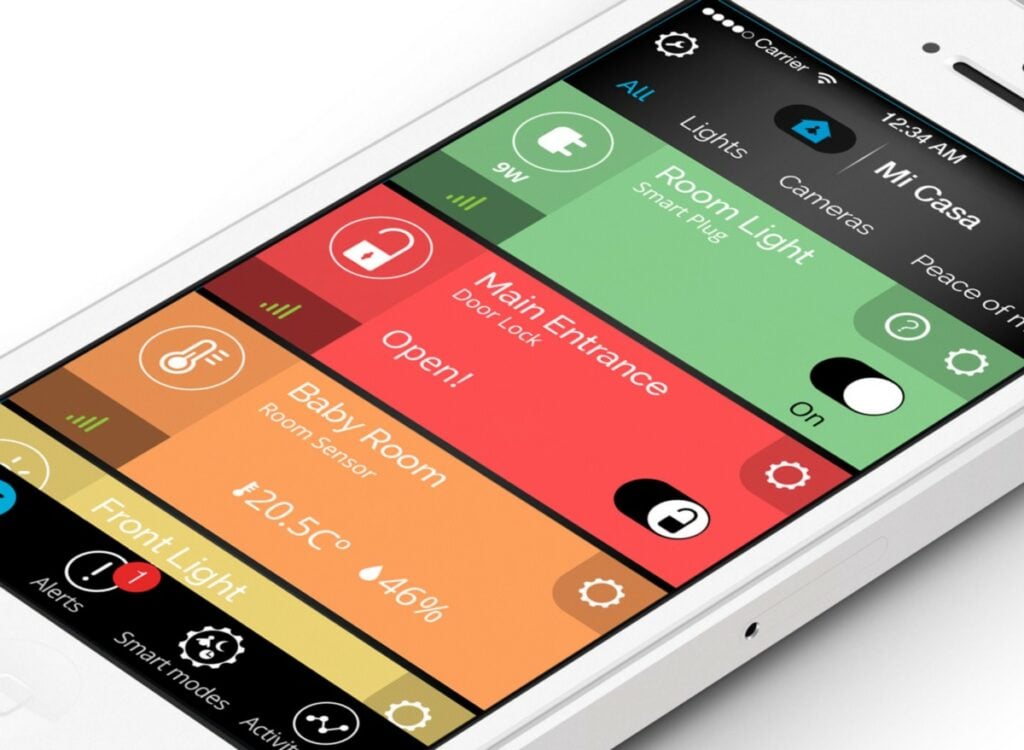 Available options:
Quick access to news from the cryptocurrency world;
Thoughtful user interface;
Quick trend analysis that allows you to create a cryptocurrency portfolio and control the change in their rates;
Presentation of full information about the status of the wallet, control of transactions in the blockchain;
Trend analysis that allows you to create a promising cryptocurrency portfolio;
Calculation of exchange rates using the built-in calculator;
Desktop widgets for different coins.
IKranus Bitcoin has a high average score of reviews (4.6), which indicates the convenience of use. People recommend the application to investors involved in the sale of Bitcoin and other coins.
Ecoinia
The Ecoinia cryptocurrency application is useful to users who are seriously interested in mining and investing in cryptocurrencies. This powerful platform allows you to monitor the exchange rates of digital coins and keep up with the latest news.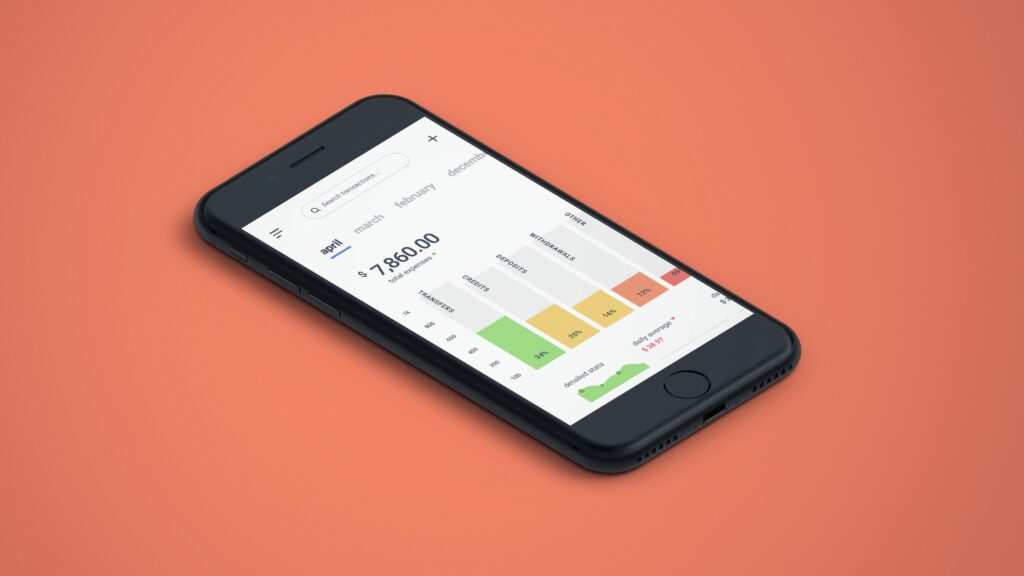 Available options:
Information on where and how to purchase mining equipment;
Recommendations for mining cryptocurrencies using pools;
Monitoring price changes of different digital money using charts;
Ability to monitor the mining process at one of the 25 available pools;
Creation of an investment portfolio of digital coins with the ability to control investments;
Relevant information about the cryptocurrency world.
Ecoinia is a free cryptocurrency application that allows you to understand the principle of blockchain and decentralization. The calculation of earnings is automatic.
The average rating based on user opinions is 4.3. People like the convenience, the ability to create an investment portfolio, and the mining failure notifications. The disadvantages are a slow download speed of cryptocurrency charts and the lack of ability to mine.
CoinMarketCap
The CoinMarketCap application is a continuation of the website offering accurate and useful information about the cryptocurrency world. The app provides relevant information on the exchange rate, market capitalization, rating, exchange volumes and other data of digital coins. With the help of the app, you can monitor cryptocurrencies from a huge list of more than 2000 coins.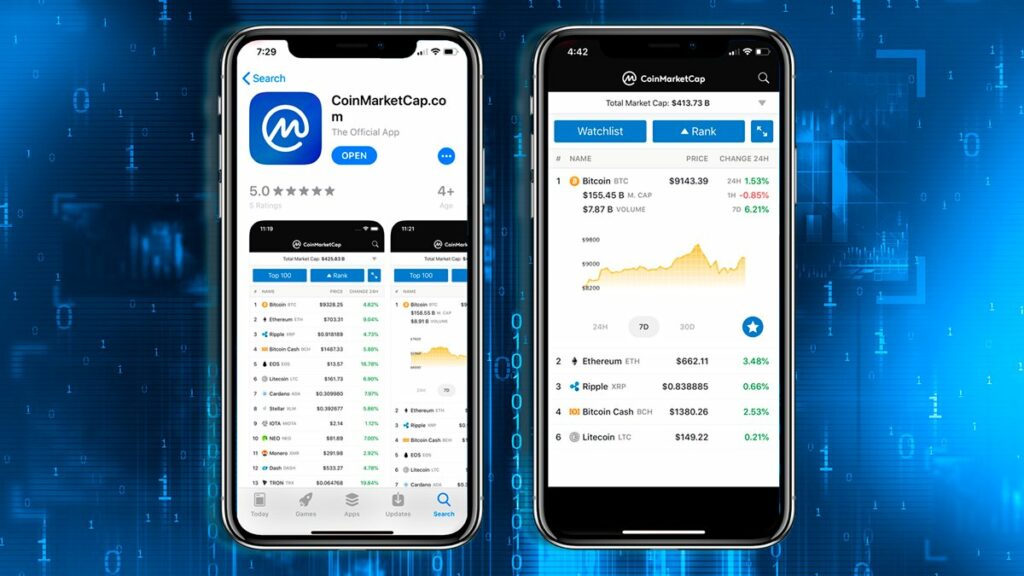 Available options:
Current data on the stock market rating;
Capitalization rating that allows you to see trading volumes and activity of other users to a particular cryptocurrency;
Built-in converter for transferring rates of fiat money and digital coin;
Notification of reaching a certain price level;
Comparison of coins by price, market capitalization, and volume;
Latest news;
Ability to customize the account.
The average rating for a cryptocurrency application is 4.3. People like the functionality and a complete set of analytical data. The main disadvantage is the lack of additional tools.
Crypto news
The Crypto News app is designed for people who want to always be in the know about the world of cryptocurrencies. Useful articles, a market monitoring service, and other options are available here. The app is small and light on system resources.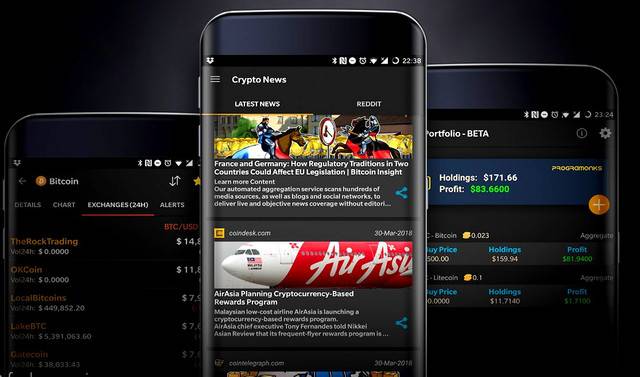 Available options:
News from well-known websites such as Bit Media, Forklog and others;
Ability to add useful news to your bookmarks;
Current exchange rate of more than 1000 coins;
Checking the value of digital coins and calculating their profitability.
The website does not require registration, passwords, or other data. There is a PRO version, which has no advertising, there is an offline mode for reading news and unlimited notifications. There is the possibility of free use for seven days.
The average user rating is 4.7. People like the app for its convenience, a large set of useful information and high-quality news. The main disadvantage is associated with the purchase of a paid subscription by mistake.
Bitbuds Mingle
The BitBuds Mingle app brings together members of the cryptocurrency community. With it, you can meet people who are interested in cryptocurrencies and share interesting news. You will not find the app in Google Play but it can be downloaded on the Internet for Android.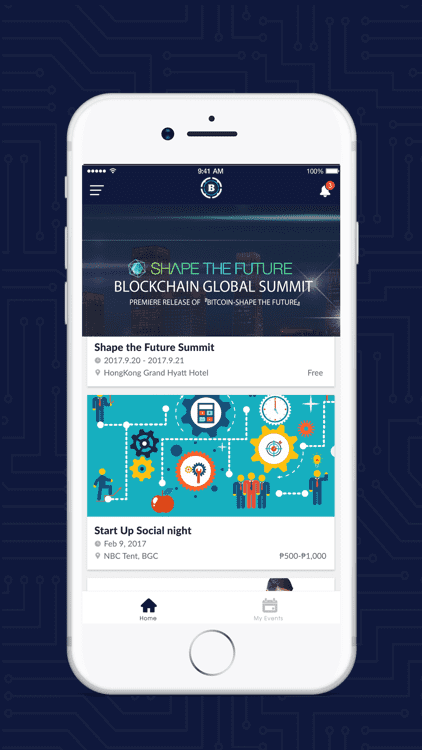 Available options:
Obtaining relevant information;
Discussion of problems;
Search for new friends by interests;
Chat creation;
Personal correspondence;
Sharing audio and photos.
The application is suitable for people who love communication and want to be updated on the news.
Binance
The Binance app is an app of the well-known cryptocurrency exchange that allows you to trade cryptocurrency from your phone. With the help of the app, you can buy and sell digital coins through the application, exchange and solve other problems.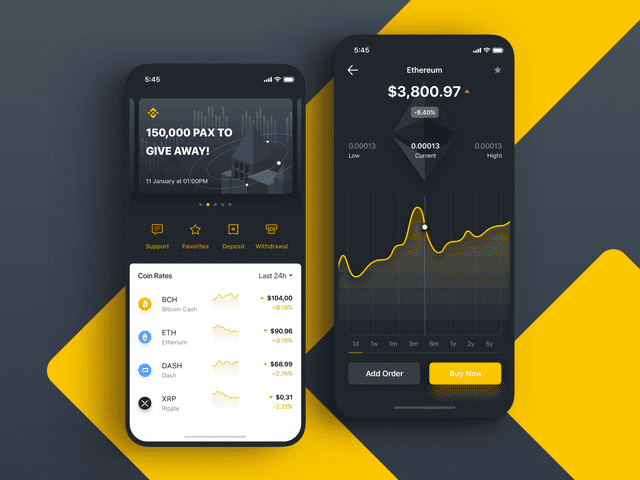 Available options:
Fast buying and selling of digital coins;
Accurate charts and tools for trading;
High-security profile;
24/7 user support.
Received money can be withdrawn at any time, which guarantees the availability of earned funds. The average user rating is 4.4. People note the convenience of working with digital assets, the quality of the application and ease of use.
CoinGesco
CoinGesko app is a free assistant in the world of cryptocurrencies offering to track prices for digital coins and gain access to market information online. It provides data on more than 6,000 different coins. After installation, users can access news, set up personal notifications, create favorites, etc.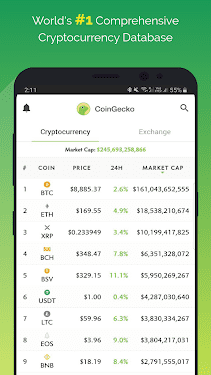 Available options:
Online price data;
Connect to more than 400 exchanges worldwide;
Providing average price information;
News from over ten major websites;
Informing about price changes;
Built-in calculator, etc.
The average user rating is 4.7. This is a bright confirmation of the popularity and benefits of the product.
Summary
The article presents the TOP-10 cryptocurrency apps that allow you to better navigate in the world of cryptocurrencies and become part of it. It is not necessary to install all the apps. It is enough to choose two or three of them and use their options.