7 best multicurrency wallets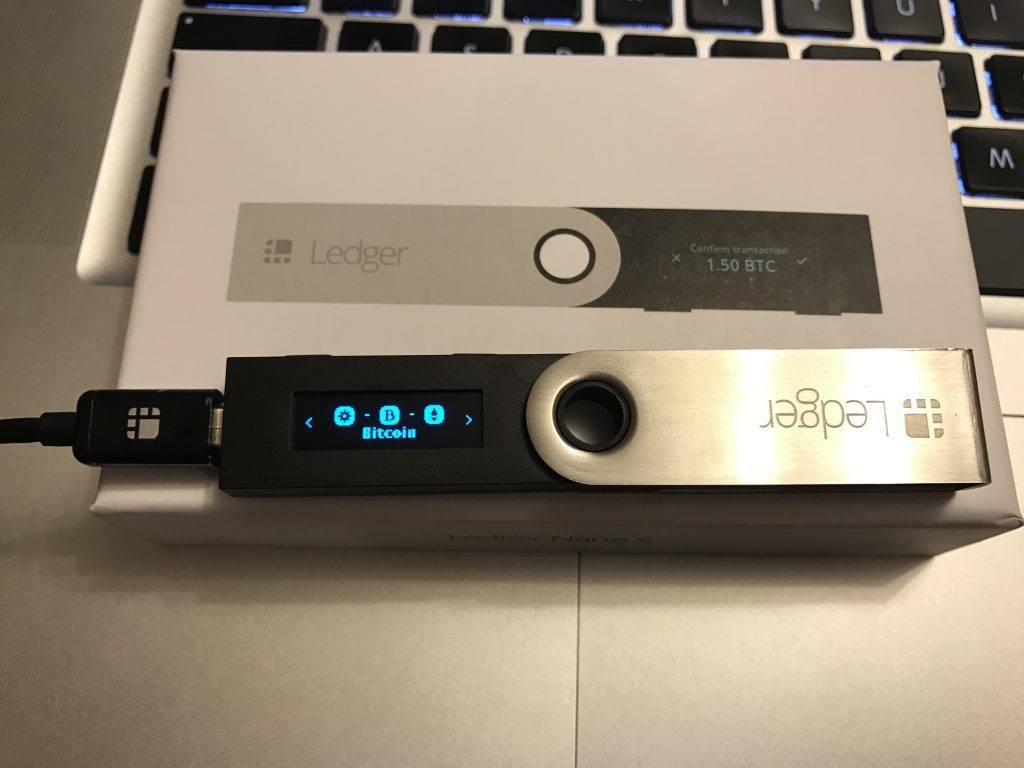 Multicurrency wallets — devices, online services, PC software or mobile apps that allow you to store cryptocurrencies and make transactions with them (buy, sell, and exchange). Depending on the type, they have different functionality and degree of protection. For convenience, we present the TOP-7 of the multi-cryptocurrency wallets and consider their pros and cons.
Ledger Nano S
Ledger Nano S is a multi-cryptocurrency hardware wallet based on a modern microprocessor. The device is made of stainless steel, has compact dimensions (56.95 x 17.4 x 9.1 mm) and low weight (16.2 g). The package includes the Ledger Nano S itself and a USB data cable.
The multi-currency wallet Ledger Nano S works with all known cryptocurrencies, including Ripple, Bitcoin, Dash, ETH, Viacon, and others. ERC-20 tokens are supported. The private key is always stored on the device, so for transactions (sending and receiving coins), you need to connect the hardware wallet to a PC or laptop.
Pros:
Stylish design. Ledger Nano S looks like a USB flash drive, which is unlikely to attract attention and easily goes in your pocket.
Using the special Ledger Live application, you can work with 23 cryptocurrencies and more than 1000 ERC-20 tokens from your phone or PC.
Reliable protection. Information on a multi-cryptocurrency wallet is reliably protected with the help of special chips and encryption.
Relatively low price. On the official website, it is around $80.
Delivery to different parts of the world.
Cons:
There are many fake devices in the market, so it is important to be careful when buying.
To send or receive coins, Ledger Nano S must be connected to other equipment.
When ordering goods from abroad, customs officials may confiscate the goods.
Matbea
Matbea is a multi-cryptocurrency wallet that has been operating since 2014. The service has earned a good reputation and positive user reviews. One of the main features of the platform is the ability to store and exchange coins without involving an intermediary. The following cryptocurrencies are supported — Bitcoin, Litecoin, ZCash, and Dash.
The site uses three-factor authentication, which guarantees reliable protection against hacking. After registration, you can independently adjust the level of protection taking into account current needs. Customer money is stored in "cold" wallets that are not connected to the Internet. This eliminates the theft of coins in case of hacking.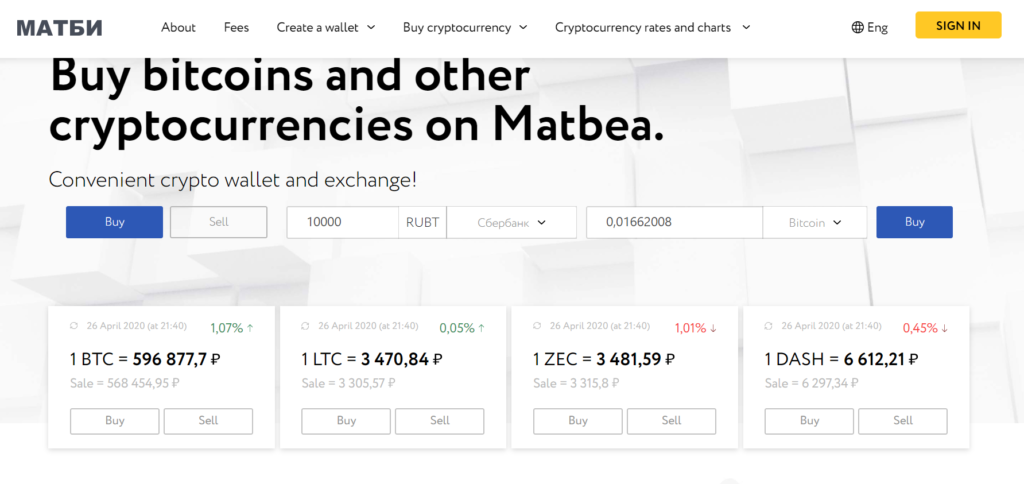 Pros:
The website works 24/7.
A multi-level affiliate program with the possibility of earning.
Good reputation and six years of work since 2014.
Low commission fee.
Qualified technical support and prompt answers to questions (Russian and English).
Transaction tracking function.
Large selection of input and output methods.
Cons:
Keys are stored on a third-party service.
The minimum amount to open a wallet is about $70.
Reoccurring problems with the withdrawal of money from the exchanger.
Holy Transaction
Holy Transaction is a universal multi-cryptocurrency wallet with a built-in exchange. The service was founded in 2014, and in 2015, the first office in Luxembourg came to be. Over the years, the platform has gained a large army of fans and good reviews. The main feature is the built-in exchanger with a favorable exchange rate. It supports more than 10 digital coins, including Bitcoin, Decred, Ethereum, Peercoin, Dash, Zcash, and others.
To start using the multi-cryptocurrency service, you must register. This raises many questions because the username and password are stored on the company's servers. Additional protection is provided thanks to a one-time password received by e-mail.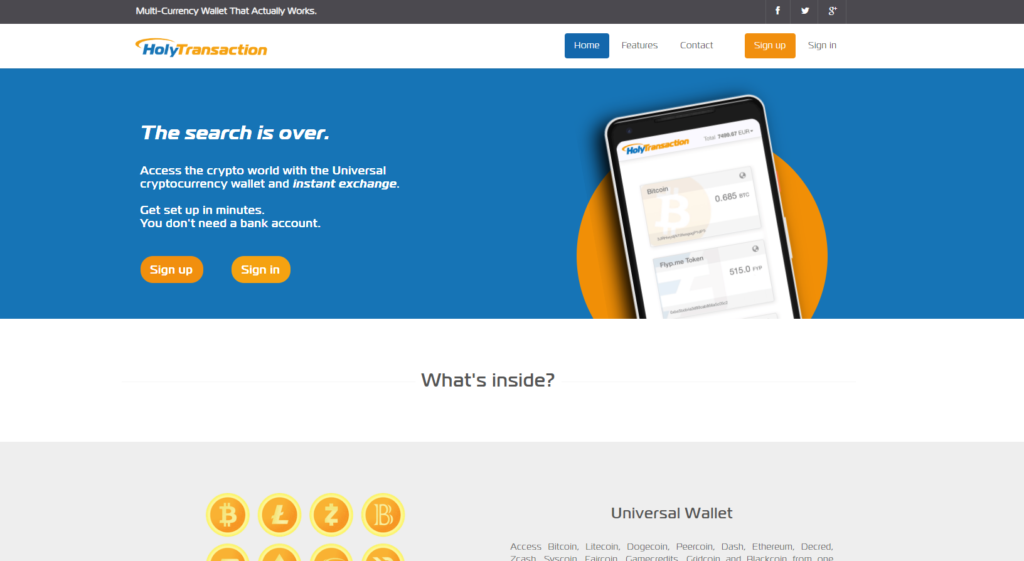 Pros:
Convenient and intuitive interface.
Fast processing of incoming and outgoing payments.
Built-in exchange with a good exchange rate and no extra fees.
The use of several security levels – backups, two-factor authentication.
Cons:
At first, it is hard to figure out how to add cryptocurrency.
Relatively low protection when compared with hardware and desktop storage.
Jaxx
Jaxx multi-cryptocurrency wallet was developed by Anthony Diiorio and presented in the market in 2016. It works with various operating systems, including Windows, Android, Linux, and others. There is a browser version for storing cryptocurrency without installation.
Jaxx supports more than 90 digital coins, including ZCash, Dash, Bitcoin, Ethereum, Dogecoin, and others.
The application is available for free and does not require you to login. Many useful applications are built into the app, including Changelly and ShapeShift for trading digital money. There is an option to control market data and the latest news.
Pros:
Full control of personal data because seed phrases and private keys are stored on your device.
User-friendly interface that even a beginner can easily understand.
Ability to store more than 90 different cryptocurrencies.
Integration with digital coin exchange applications, which reduces risks.
Open source code and desire of the creators to continue development.
Lack of registration.
Cons:
High fees of the built-in exchanger.
The code is not fully publicly available.
The possibility of storing fiat money is not provided.
Exodus
Exodus multi-cryptocurrency wallet is available in several versions — desktop, mobile and hardware (for Trezor devices). The software appeared in 2015. It supports more than 100 cryptocurrencies. The list includes Bitcoin, Dash, ZCash, XRP, Tether, and others.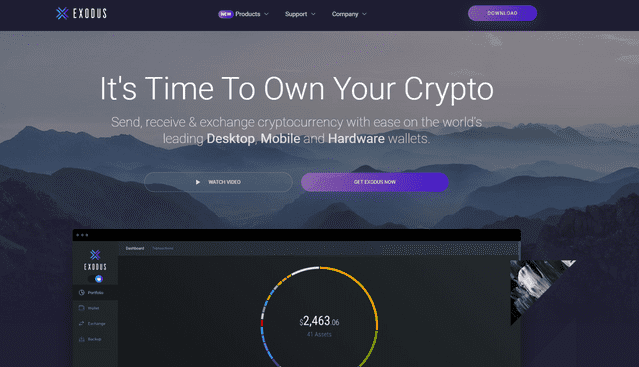 The software is characterized by quick data synchronization thanks to the Exodus Desktop application, internal exchange of digital coins and online market monitoring. The multi-cryptocurrency wallet is updated every two weeks, which eliminates the errors if they occur. After downloading and installation, access to the settings is closed until the account is replenished, which reduces the load on the server.
Pros:
The ability to exchange cryptocurrencies inside the storage at a favorable exchange rate thanks to integration with ShapeShift.
Intuitive and user-friendly interface.
Over 100 supported digital coins.
Regular updates and stable performance.
Support for all OS.
Ability to interact with the Trezor hardware wallet.
Cons:
Two-step authentication is not provided.
Commission cannot be selected manually.
Coinbase
Coinbase multi-cryptocurrency wallet was founded in 2012 to work with Litecoin, Ethereum, and Bitcoin. The company has an office in the United States (California). As of April 2020, the number of users of the online platform is more than 30 million people, which is additional evidence of reliability and trust.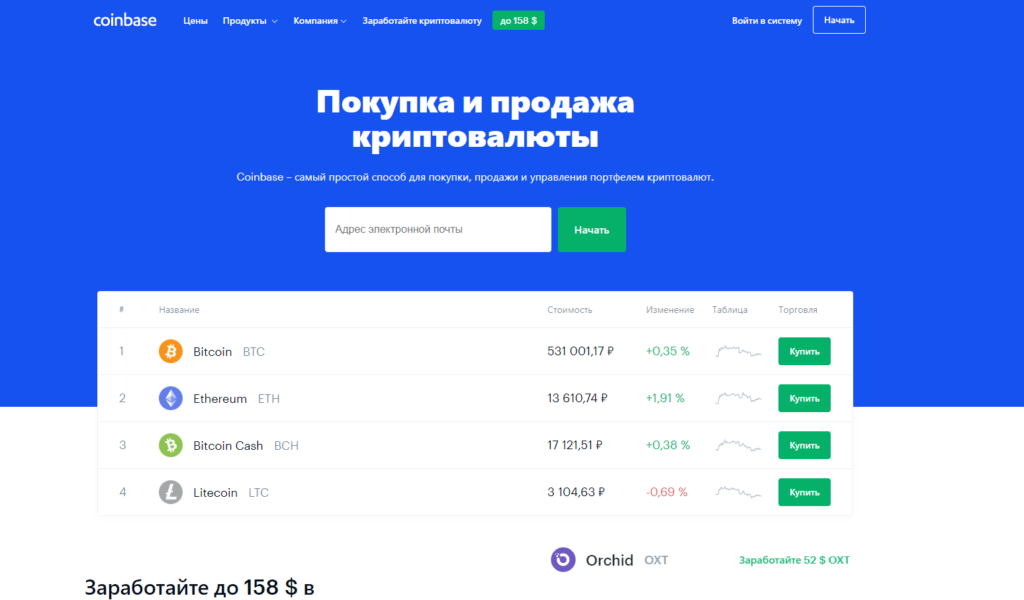 Coinbase is a universal platform that allows you to store almost all types of modern cryptocurrencies and conduct operations with them. The creator of the exchange is a company licensed by the US regulator, so the site's activities are legal. In 2018, the platform received a license from the FCA regulator (UK).
Pros:
Not a single hacking or theft of money were recorded.
High transaction speed.
Relatively small commission.
Compulsory insurance of deposits recorded in regulatory authorities.
Cold storage of coins.
The ability to trade directly from your account.
API support.
No account verification requirements.
Cons:
A limited selection of cryptocurrency pairs.
Periodic problems with technical support.
Coinomi
Coinomi multi-cryptocurrency wallet is a universal product that supports almost all versions of operating systems. It allows you to store more than 80 cryptocurrencies. The app was launched on the market in 2014 and has since been considered one of the best solutions.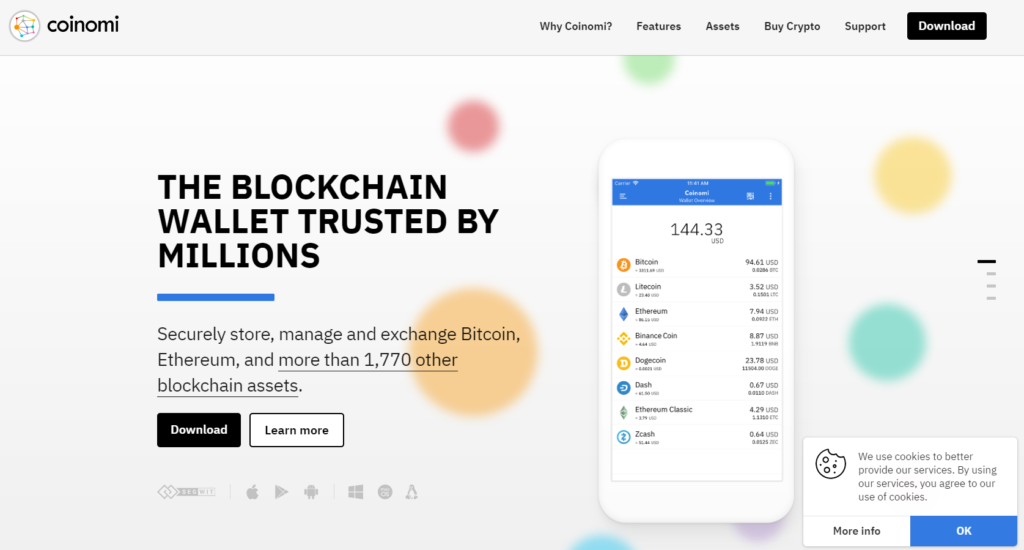 Coinomi can be installed on a mobile phone, PC, or laptop. The application is quickly synchronized, has several modes of operation and enhanced security.
Pros:
High level of protection.
Lack of hacking information.
Easy installation and quick registration.
Built-in services for exchanging inside the multi-cryptocurrency wallet.
Fast transactions.
User stores the passwords.
Cons:
Periodic problems with technical support.
Relatively small functionality.
There are no current versions of the source code on the Internet.
Summary
The multi-cryptocurrency wallets are in the greatest demand; they are characterized by ease of use and reliability. When choosing, you need to focus on several criteria — convenience, functionality, and degree of protection against theft of coins. For example, for long-term storage, the Ledger Nano S hardware wallet is more suitable, but when making private transactions, it is better to use Matbea, Coinomi, and Exodus.